Risk for Intimate Partner Femicide in Violent Relationships
Author: Nancy Glass, PhD, MPH, RN.; Jennifer Manganello, PhD, MPH.; Jacquelyn C. Campbell, PhD, RN, FAAN.
Source: Volume 09, Number 02, December/January 2004 , pp.17-20(4)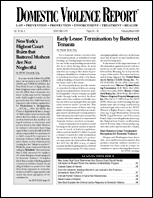 next article > |return to table of contents
Abstract:
Femicide, the homicide of women, is the leading cause of death in the United States among young African American women aged 15 to 45 years and the seventh leading cause of premature death among women. American women are killed by intimate partners more often than by any other category of perpetrator. Intimate partner homicide accounts for approximately 40% to 50% of U.S. femicides but a relatively small proportion of male homicides (5.9%). The majority (67%–80%) of intimate partner homicides involve physical abuse of the female by the male before the murder no matter which partner is killed. This article summarizes a national study meant to determine the risk factors involved,
Keywords: Danger Assessment (DA) Instrument

Affiliations: 1: Oregon Health & Science University School of Nursing; 2: University of Pennsylvania; 3: Johns Hopkins University School of Nursing.