Post-Divorce Children Relocating With Mothers Do Best: So Why Does the Braver Study Hide Its Own Results? Part III
Author: Trish Wilson.
Source: Volume 09, Number 03, February/March 2004 , pp.37-39(3)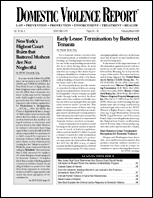 < previous article |next article > |return to table of contents
Abstract:
Part II of this article appeared in the last issue and explained that despite the correlational nature of both Braver's data and father absence studies, the Braver Study chose to recommend that courts forbid custodial parents, most of whom are mothers, from relocating with the children. The Braver study also ignored attachment theory, the "primary caregiver" concept, child development research, and the effect of a major life transition on young adults such as moving away from home for the first time and attending college. Bias against women in the Braver study and in Braver's prior statements and works was also addressed.
Keywords: LaMusga immigration case; In re Burgess, 913 P.2d 473 (Cal. 1996); Fathers' Rights Advocates and College Tuition; Use of Joint Custody to Prevent Custodial Mother Move-Aways; pitfalls of joint physical custody; Bauserman

Affiliations: .