How Family and Friends Can Support an Abused Woman
Author: Elaine Weiss, Ed.D..
Source: Volume 09, Number 03, February/March 2004 , pp.35-37(3)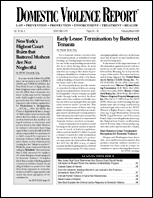 < previous article |next article > |return to table of contents
Abstract:
The article is typical of the contents in the author's book, Family and Friends' Guide to Domestic Violence: How to Listen, Talk and Take Action When Someone You Care About Is Being Abused, It is a first-person account.
Keywords: family and friends need to be educate

Affiliations: 1: University of Utah.