Intimate Partner Abuse Experienced by Latinas
Author: Mindy B. Mechanic, Ph.D..; Miriam Valdovinos.
Source: Volume 09, Number 03, February/March 2004 , pp.33-36(4)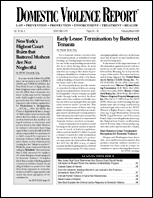 < previous article |next article > |return to table of contents
Abstract:
Research on intimate partner abuse (IPA) is thriving, yet the unique experiences and needs of women of color and women from underserved communities have not been consistently voiced. Recent scholarship has begun to document the experiences of battered women within the context of culture and ethnicity. This column covers three related papers: "Culture and Domestic Violence: The Ecology of Abused Latinas", by Perilla, J.L., Bakeman, R., and Norris, F.H., 9 Violence and Victims 325-339 (1994); "Predictive Models of Intimate Partner Abuse and Fear of Intimate Partners Between Migrant and Seasonal Farm Worker Women", by Van Hightower, N.R., Gorton, J., and DeMoss, C.L., 15 Journal of Family Violence 137-154 (2000); "Predicting Physical Abuse Against Pregnant Hispanic Women", by McFarlane, J., Wist, W. & Watson, M., 15 (2) American Journal of Preventive Medicine 134-138 (1998).
Keywords: cultural scripts

Affiliations: 1: California State Fullerton.