Trigger Mechanisms in Lethal Counter- Violence by Battered Women
Author: Jodi Kateiva, MA .; Lee H. Bowker, Ph.D..
Source: Volume 09, Number 03, February/March 2004 , pp.33-37(5)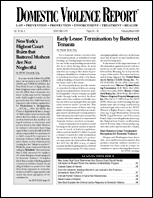 next article > |return to table of contents
Abstract:
Battered women are incarcerated in every state women's prison for killing their abusers. This article looks at these crimes from the viewpoint of victim precipitation instead of self-defense or the effects of battering (called battered woman syndrome in many jurisdictions).
Keywords: heightened sensitivity to signs of battering is sometimes referred to as hypervigilance; abuser unexpectedly becomes victim; victim becomes victor; trigger mechanism an acceleration of the abuse; Jodi Kateiva's Master's Thesis, "When the Abused

Affiliations: .