Two Stalking Statutes Survive Constitutional Challenges
Author: Anne L. Perry.
Source: Volume 09, Number 04, April/May 2004 , pp.55-55(1)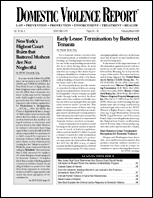 < previous article |next article > |return to table of contents
Abstract:
Porelle challenges the statute phrases"no legitimate purpose" and "place to place" as standarless and undefined, and unconstitutionally vague for failing to provide specific limitations on the enforcement discretion of the police. Stuart argues that a stalking statute fails to provide adequate notice of what conduct is prohibitted and does not give sufficent guidance to those charged with enforcing it.
Keywords: State v. Porelle; people v. Stuart

Affiliations: 1: Associate Editor of DVR.