Annual Symposium on Domestic Violence at Fordham Law School
Author: Nancy K. D. Lemon, J.D..
Source: Volume 09, Number 04, April/May 2004 , pp.53-56(4)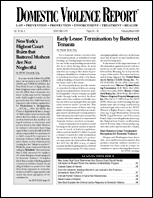 < previous article |next article > |return to table of contents
Abstract:
Each year Fordham Law School hosts a domestic violence conference and publishes the papers or talks presented there. The 2001 conference was called "Revolutions Within Communities: The Fifth Annual Domestic Violence Conference." Volume 29 of the Fordham Urban Law Journal includes the keynote speech and transcripts of four panel discussions.
Keywords: Mainstream Legal Responses to Domestic Violence vs. Real Needs of Diverse Communities; Issues in Representing Immigrant Victims; Lesbian, Gay, Bisexual, Transgender Communities and Intimate Partner Violence; Overcoming Barriers in Communities

Affiliations: 1: Associate Editor of DVR.