Complete Issue
Author: Joan Zorza, Esq..
Source: Volume 09, Number 05, June/July 2004 , pp.65-80(16)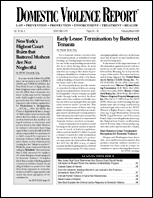 < previous article |return to table of contents
Abstract:
This is the complete issue, Volume 9 Number 5. It includes the full text of all the articles listed above, with hyperlinks from table of contents entries to articles and linked article continuations, to facilitate reading.
Keywords: more than five dimensions of domestic violence; Power and Control Wheel; progression of battering too simplistic; No Standardized Method of Scoring; "The Predicament of the Immigrant Victim Defendant: 'VAWA Diversion' and Other Considerations i

Affiliations: 1: Editor, Domestic Violence Report.