Intimate Partner Abuse Experienced by Latinas
Author: Mindy B. Mechanic, Ph.D..; Miriam Valdovinos.
Source: Volume 09, Number 05, June/July 2004 , pp.69-74(6)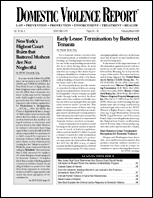 < previous article |next article > |return to table of contents
Abstract:
This article continues DVR's focus on intimate partner abuse experienced by Latinas by summarizing three recently published papers: "Lifetime Prevalence of Violence Against Latina Immigrants: Legal and Policy Implications", by Hass, G.A., Dutton, M.A., & Orloff, L.E. 7 (1-3) International Review of Victimology 93-13 (2000); "Utilization of Police by Abused Pregnant Hispanic Women", by Wiist, W.H., & McFarlane, J. 4(6) Violence Against Women 677-693 (1998); "Social Support and Disclosure of Abuse: Comparing South Asian, African-American, and Hispanic Battered Women", by Yoshioka, M.R., Gilbert, L., El-Bassel, N., & Baig-Amin, M. 18 (3) Journal of Family Violence 171- 180 (2003).
Keywords: Abusive partners may use battered women's immigration status as a tool to control their partners; cultural context in which partner abuse takes place

Affiliations: 1: California State Fullerton.