Complete Issue
Author: Joan Zorza, Esq..
Source: Volume 09, Number 06, August/September 2004 , pp.81-96(16)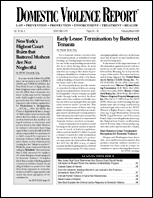 < previous article |return to table of contents
Abstract:
This is the complete issue, Volume 9 Number 6. It includes the full text of all the articles listed above, with hyperlinks from table of contents entries to articles and linked article continuations, to facilitate reading.
Keywords: VAWA III; Lundy Bancroft; "Why Does He Do That?"; mediators screen out 5% of divorce cases; blinded to seeing family violence as a crime; Trina Grillo, "The Mediation Alternative: Process Dangers for Women"; Carrie-Anne Tondo, Inarisa Coronel

Affiliations: 1: Editor, Domestic Violence Report.