From the Literature: Outstanding Resource on Family Violence for Judges (Part I)
Author: Nancy K. D. Lemon, Esq..
Source: Volume 09, Number 06, August/September 2004 , pp.85-87(3)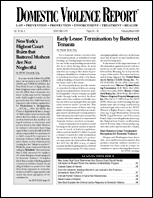 < previous article |next article > |return to table of contents
Abstract:
This is the first of a two part article. The Family Violence Department of the National Council of Juvenile and Family Court Judges (NCJFCJ) has produced yet another outstanding resource for judges and others on the topic of family violence. Family Violence Issue, 54(4) Juvenile and Family Court Journal (Fall 2003). A previous issue devoted to this topic, published in 1999, was a great contribution to the field. This issue, authored by leaders in the field from both the US and Canada, is similarly valuable. In this column, the author discusses," Vicarious Trauma in Judges: The Personal Challenge of Dispensing Justice", by Peter G. Jaffe, Claire V. Crooks, Billie Lee Dunford-Jackson, and Judge Michael A. Town; "High Conflict Divorce, Violence, and Abuse: Implications for Custody and Visitation Decisions", by Clare Dalton, Judge Susan Carbon, and Nancy Olesen; "Creating Justice Through Balance: Integrating Domestic Violence Law into Family Court Practice", by Andrea C. Farney and Roberta L. Valente; "Common Misconceptions in Addressing Domestic Violence in Child Custody Disputes", by Peter G. Jaffe, Claire V. Crooks, and Samantha E. Poisson; "Ensuring Fairness and Justice for Noncitizen Survivors of Domestic Violence", by Gail Pendleton; and "Disproportionate Representation: Communities of Color in the Domestic Violence, Juvenile Justice, and Child Welfare Systems", by Richard Wright and Judge Wade Thomas, Jr.
Keywords: London Family Court Clinic in Ontario, Canada

Affiliations: 1: Associate Editor of DVR.