Culturally Sensitive Interventions Among Women of Color
Author: Mindy Mechanic, Ph.D..; Miriam Valdovinos.
Source: Volume 10, Number 01, October/November 2004 , pp.10-11(2)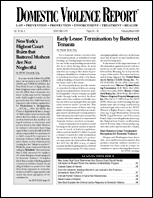 < previous article |next article > |return to table of contents
Abstract:
This column includes two reviews, one ("Domestic Violence Interventions With Women of Color: The Intersection of Victimization and Cultural Diversity", by C. Koverola & S. Panchanadeswarn, 2004) by Mindy Mechanic and the second ("Use of Counseling by Abused Pregnant Hispanic Women", by J.M. McFarlane, W. Wist & K. Soeken, 8 [4] Journal of Women's Health and Gender-Based Medicine 541-546, 1999) by Miriam Valdovinos. Both emphasize the importance of developing culturally sensitive interventions for battered women of color, whether those interventions target physical healthcare needs, mental healthcare needs, or other community-based resources.
Keywords: heterogeneity of battered women within ethnic minority groups; inverse association between the use of police and counselors

Affiliations: 1: California State University.