From the Literature: Outstanding Resource on Family Violence for Judges, Part II
Author: Nancy K. D. Lemon, Esq..
Source: Volume 10, Number 01, October/November 2004 , pp.5-7 (3)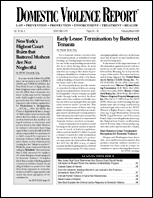 < previous article |next article > |return to table of contents
Abstract:
This is the second of a two part article (the prior part having appeared in the August/September issue of DVR). The Family Violence Department of the National Council of Juvenile and Family Court Judges (NCJFCJ) has produced another outstanding resource for judges and others on the topic of family violence. Family Violence Issue, 54(4) Juvenile and Family Court Journal (Fall 2003). This column discusses the following articles: "Using Reasonable Efforts Determinations to Improve Systems and Case Practice in Cases Involving Family Violence and Child Maltreatment", by Judge Richard FitzGerald, Christine Bailey, and Lauren J. Litton; "The Use of Domestic Violence Advocates in Juvenile Court: Lessons From the Dependency Court Intervention Program for Family Violence", by Candice L. Maze, Stefanie A. Klein, and Judge Cindy S. Lederman; "The War on Violence: Improving the Response to Domestic Violence in the Military", by Judge Peter C. Macdonald and Deborah D. Tucker; "Working From Inside and Outside Institutions:How Safety Audits Can Help Courts' Decision Making Around Domestic Violence and Child Maltreatment", by Ellen Pence and Martha McMahon.
Keywords: Dependency Court Intervention Program for Family Violence (DCIPFV) in Miami, Florida; Armed Forces Domestic Security Act

Affiliations: 1: Associate Editor of DVR.