Answering Challenges to the Bowker Battering Scale
Author: Lee H. Bowker, Ph.D..
Source: Volume 10, Number 01, October/November 2004 , pp.1-4(4)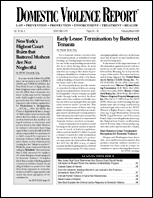 next article > |return to table of contents
Abstract:
This article is a first-person response from Lee Bowker to a previous critique by Dr. Linda Barnard to Bowker's "The Dimensions of Battering and New Understandings", particularly in regard to the five dimensions of battering presented by Bowker. It also includes as a boxed insert Dr. Barnard's response to this article.
Keywords: scientific validation; California Board of Prison Terms; BPT

Affiliations: 1: Humboldt State University.