Complete Issue
Author: Joan Zorza, Esq..
Source: Volume 10, Number 02, December/January 2005 , pp.17-32(16)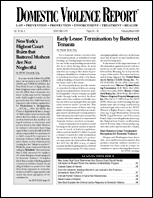 < previous article |return to table of contents
Abstract:
This is the complete issue, Volume 10 Number 2. It includes the full text of the articles listed above, with hyperlinks from table of contents entries to articles and linked article continuations, to facilitate reading.
Keywords: Shalleck lays out five themes; VAWA; US v. Morrison; Temporary Assistance to Needy Families; TANF; CALIFORNIA: Expert Testimony on Battering and its Effects Is Admissible Even in the Absence of Any Evidence of Prior Abuse; Expert Testimony Regarding

Affiliations: 1: Editor, Domestic Violence Report.