Studies Shed Light on How Children Respond to Domestic Violence and What Would Help Them
Author: Joan Zorza, Esq..
Source: Volume 10, Number 02, December/January 2005 , pp.24-25(2)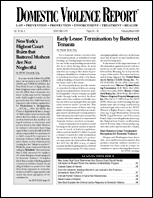 < previous article |next article > |return to table of contents
Abstract:
A whole year's worth of the Journal of Emotional Abuse (Vol. 3, Nos. (1/2) (3/4), 2003) has been published simultaneously by Haworth Maltreatment & Trauma Press as The Effects of Intimate Partner Violence on Children, edited by Robert Geffner, Robyn Spurling Igelman and Jennifer Zellner (308 pages, 2003) (hereinafter, "The Effects"). The 11 chapters of The Effects are organized in four sections, the first having five chapters and the other sections each having two: "Adjustment in Children Exposed to Intimate Partner Violence: Clinical Re - search"; "Prevention and Intervention for Children"; "Effects of Treatment: Outcome Research"; and "Legal Issues and Policy Implications." Articles come from the U.S., Canada and Israel.
Keywords: effect of domestic violence on children's behavior; Review of Research on Children's Adjustment; Emotion Regulation and Emotionality as Moderators in Exposure to Conflict; Judee Onyskiw; Stephanie M. Whitson; Mona El-Sheikh

Affiliations: 1: Editor, Domestic Violence Report.