Health Watch: Health Factors Affecting Pregnant Hispanic Women
Author: Miriam Valdovinos.
Source: Volume 10, Number 02, December/January 2005 , pp.23-24(2)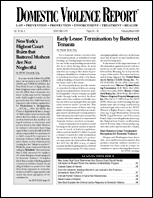 < previous article |next article > |return to table of contents
Abstract:
As the discussion regarding spousal abuse within Hispanic communities in the United States continues, it is necessary to analyze intervention techniques used with these communities. The literature available regarding Hispanic communities has emphasized the importance of focusing on cultural factors to assist in responding to this problem. Interventions that are culturally specific can more effectively target the communities of interest to combat the problem of spousal abuse. Researchers and mental health providers must understand the different perspectives and beliefs certain cultures may have about health and illness. This column features "Intervening With Battered Hispanic Pregnant Women", by Sara Torres, a chapter in the publication Empowering Survivors of Abuse: Healthcare for Battered Women and Their Children.
Keywords: sociodemographic characteristics of Hispanics

Affiliations: 1: California State University.