Recent Child Abuse Cases of Interest
Author: Staff Editors.
Source: Volume 10, Number 02, December/January 2005 , pp.21-23(3)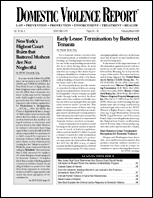 < previous article |next article > |return to table of contents
Abstract:
This column discusses and summarizes recent court cases involving child abuse, including: New Jersey Div. of Youth and Family Servs. v. S.S., __ A.2d __, 2004 WL 1472129 (N.J. App. Div. 2004); Horridge v. St. Mary's Cty. Dep't of Social Servs., __ A.2d __, 2004 WL 1672221 (Md. Ct. App. 2004)
Keywords: Mother Did Not Abuse or Neglect Child Where Child Was Present But Unharmed During Father's Violent Attacks on Mother; Department of Social Services Had Duty to Protect Child Who Was Subject of Abuse Report: Potential Tort Liability May Arise From

Affiliations: .