Cases on Admissibility of Expert Testimony on Effects of Battering
Author: Anne L. Perry, Esq..
Source: Volume 10, Number 02, December/January 2005 , pp.21-22(2)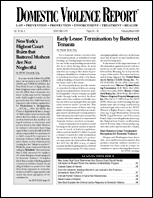 < previous article |next article > |return to table of contents
Abstract:
This column discusses recent court cases on the title subject, including: People v. Brown, 33 Cal. 4th 892 (Cal. 2004); People v. White, 780 N.Y.S.2d 727 (N.Y. Dist. Ct. 2004).
Keywords: CALIFORNIA: Expert Testimony on Battering and its Effects Is Admissible Even in the Absence of Any Evidence of Prior Abuse; Expert Testimony Regarding "Battered Woman Syndrome" Inadmissible as Irrelevant to Explain Delay in Reporting Alleged Crim

Affiliations: 1: Associate Editor of DVR.