Dreaming Big: Creating Family Justice Centers Across America, Part II
Author: Casey Gwinn.
Source: Volume 10, Number 02, December/January 2005 , pp.17-18(2)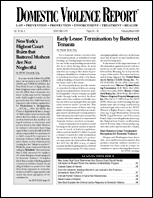 < previous article |next article > |return to table of contents
Abstract:
This is the second part of a two part series. The first part explained what the Family Justice Center is, how it began and how it operates. This part will discuss what it has learned and how it is being replicated across the nation. As the national trend toward colocated, multi-disciplinary services evolved, President George W. Bush endorsed the movement by creating the President's Family Justice Center Initiative.
Keywords: co-located services; trends from the center

Affiliations: 1: City Attorney of San Diego.