The Argument for Experimental Studies When Testing the Effectiveness of Court- Mandated Batterer Intervention Programs
Author: Lynette Feder.; David B. Wilson .; Anthony Petrosino.
Source: Volume 10, Number 02, December/January 2005 , pp.17-19(3)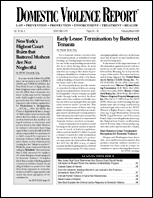 next article > |return to table of contents
Abstract:
The Broward Experiment set out to test whether court-mandated treatment was effective in reducing recidivism amongst domestic violence offenders. To answer this question, men convicted of misdemeanor domestic violence in one south Florida county were randomly assigned to one year probation and 26 weeks court-mandated counseling (in one of five county-certified programs all using the Duluth Model) or one year probation only. All men convicted of misdemeanor domestic violence (with few exceptions) went through this assignment process. This is a first-person account describing and discussing the findings.
Keywords: Navy experiment consistent with Broward's

Affiliations: 1: Portland State University; 2: George Mason University; 3: Campbell Collaboration Crime and Justice Group.