Recent Cases of Interest
Author: Staff Editors.
Source: Volume 10, Number 03, February/March 2005 , pp.39-40(2)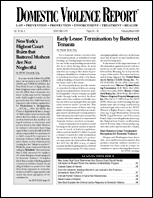 < previous article |next article > |return to table of contents
Abstract:
This column discusses recent court cases of interest to readers of DVR, including: Rojas v. Superior Court,__ Cal. 3d __, 2004 WL 1542239 (Cal. 2004); In re Marriage of Suggs, __P.3d __, 2004 WL 1515992 (Wash. 2004).
Keywords: CALIFORNIA: Photographs, Witness Statements, and Other Evidence Submitted for Mediation Proceedings Is Confidential; Husband's Harassment Order Against Wife Was Unconstitutional Prior Restraint on Speech

Affiliations: .