From the Literature: Hastings Women's Law Journal in San Francisco, Symposium Issue (Part II)
Author: Nancy K. D. Lemon, Esq..
Source: Volume 10, Number 03, February/March 2005 , pp.37-38(2)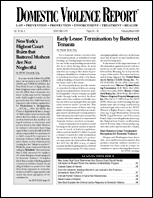 < previous article |next article > |return to table of contents
Abstract:
This article is a continuation of the report on the Hastings Women's Law Journal Symposium, which dealt with remaining barriers to combating domestic violence. Part I was reported in the 9(5) DVR 67 (June/ July 2004). It includes: "Battered by the System: How Advocates Against Domestic Violence Have Improved Victims' Access to Child Support and TANF", by Naomi Stern; "Marital Immunity: Intimate Relationships, and Improper Inferences: A New Law on Sexual Offenses by Intimates", by Michelle J. Anderson, although not part of the Symposium issue.
Keywords: TANF

Affiliations: 1: Associate Editor of DVR.