Recent Stalking Research
Author: Erica Weissman, J.D., Psy.D..
Source: Volume 10, Number 05, June/July 2005 , pp.73-76(4)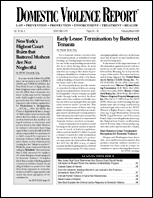 < previous article |next article > |return to table of contents
Abstract:
This is a summary and review of the article, "Stalking: Knowns and Unknowns", by Lorraine P. Sheridan, Eric Blaaw, and Graham M. Davies 4 (2) Trauma, Violence, and Abuse 148- 162 (April 2003).
Keywords: little consensus on how to prevent stalking

Affiliations: .