The Cultural Context for Abuse of Latinas
Author: Mindy Mechanic .; Miriam Valdovinos.
Source: Volume 10, Number 05, June/July 2005 , pp.65-70(6)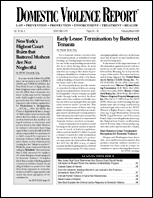 next article > |return to table of contents
Abstract:
This column reviews articles highlighting the experiences of abused Latinas, focusing on cultural beliefs and values that contextualize battered women's interpretation of and responses to the abuse in their lives. The articles include: "Battered Immigrant Mexican Women's Perspectives Regarding Abuse and Help-Seeking", by M.J. Acevedo, 8 (3/4) Journal of Multicultural Social Work 243-282 (2000) and "Counseling Latina Battered Women: A Qualitative Study of the Latina Perspective", by Kasturirangan, A. & Williams, E. N. 31 Journal of Multicultural Counseling and Development 162-178 (2003).
Keywords: East Los Angeles, California family preservation program; focusing on the needs of the family over those of the woman herself; marianismo

Affiliations: 1: California State Fullerton.