Three Promising Order of Protection Decisions From Alaska's Supreme Court
Author: Christine Pate, Esq..
Source: Volume 10, Number 06, August/September 2005 , pp.89-90(2)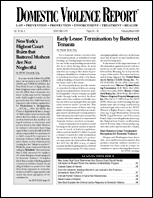 < previous article |next article > |return to table of contents
Abstract:
This column discusses three order of protection cases from Alaska: Lana C. v. Cameron, 108 P.3d 896 (Alaska 2005); McComas v. Kirn, 105 P.3d 1150 (Alaska 2005); and Rick P. v. State of Alaska, 109 P.3d 950 (Alaska 2005).
Keywords: Agreement or Order Barring Past Evidence of Abuse Is Against Public Policy; History of Domestic Violence Justifies Terminating Father's Parental Rights; Grant of Protective Order Proper Despite Divorce No Contact Order

Affiliations: 1: Alaska Network on Domestic Violence and Sexual Assault.