More Effects on Intimate Partner Violence on Hispanic Victims
Author: Mindy Mechanic.; Miriam Valdovinos.
Source: Volume 10, Number 06, August/September 2005 , pp.87-88(2)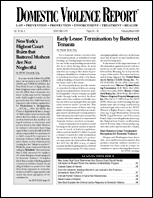 < previous article |next article > |return to table of contents
Abstract:
This column reviews four articles focusing on battered women of color. The first paper focuses upon acculturation, alcohol abuse and intimate partner violence among a representative sample of Hispanic couples residing in the United States. The second study addresses the traumatic impact of DV exposure on Mexican, Mexican-American and non-Mexican American children.
Keywords: "Acculturation, Drinking, and Intimate Partner Violence Among Hispanic Couples in the United States: A Longitudinal Study", by R. Caetano, S. Ramisetty-Mikler, & C. McGrath, 26 (1) Hispanic Journal of Behavioral Sciences 60-78 (2004); IPV; "Tr

Affiliations: 1: California State Fullerton.