U.S. Supreme Court Removes One Seldom Used Remedy for Enforcing Orders of Protection
Author: Joan Zorza, Esq..
Source: Volume 10, Number 06, August/September 2005 , pp.86-87(2)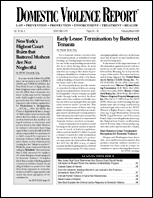 < previous article |next article > |return to table of contents
Abstract:
On June 29, 2005 the U.S. Supreme Court held in its 7-2 decision in Town of Castle Rock, Colorado v. Gonzalez that Colorado's mandatory arrest law, one of the toughest in the country, does not actually give a victim of an order of protection the right to have the police investigate and arrest the enjoined abuser who has violated that order. This important decision, which will be discussed in much greater detail in the next issue of Domestic Violence Report, is yet another insulting decision adversely affecting battered women (the other notable one being U.S. v. Morrison, striking down the civil rights remedy enacted as part of VAWA I, see 5 DVR 81 (Aug./Sept. 2000) showing that at least seven members of the Court still do not "get it" about domestic violence. Instead they hold that protecting city and town moneys are far more important than protecting women and children's lives. This article discusses the facts and implications of this disturbing case.
Keywords: Nicholson v. Scoppetta; DeShaney v. Winnebago County Dept. of Social Services; Justices Stevens and Ginsburg dissent

Affiliations: 1: Editor, Domestic Violence Report.