Tort Cases Attempt to Clarify When Police Can Be Sued for Failure to Arrest
Author: Staff Editors.
Source: Volume 10, Number 06, August/September 2005 , pp.84-85(2)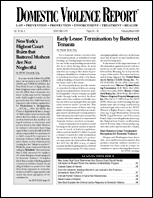 < previous article |next article > |return to table of contents
Abstract:
This column summarizes and discusses cases that illustrate circumstances when the police can be sued for failure to arrest, including: Lunini v. Grayeb, 395 F.3d 761 (7th Cir. 2005) and Moore v. Green et al, 822 N.E.2d 69 (Ill. Ct. App., 2004).
Keywords: SEVENTH CIRCUIT: Police Failure to Arrest Councilman for Domestic Violence Did Not Violate Equal Protection; Joseph Lunini; ILLINOIS: No Immunity for Police If Failure to Protect Domestic Violence Victim Was "Willful or Wanton Misconduct"; Ronyal

Affiliations: .