Castle Rock v. Gonzales and the Future of Police Protection for Victims of Domestic Violence
Author: Emily J. Martin, Esq..; Caroline Bettinger-Lopez, Esq..
Source: Volume 11, Number 01, October/November 2005 , pp.1-6(6)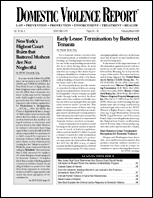 next article > |return to table of contents
Abstract:
This June, the U.S. Supreme Court found that police failure to abide by state mandatory arrest laws does not violate survivors' rights under the U.S. Constitution. The Court thus closed the door on an innovative legal attempt to protect domestic violence victims' civil rights and promote their safety. The Supreme Court's decision, however, provides a starting point for new initiatives to promote police enforcement of domestic violence laws and ensure police accountability. This article discusses the case and its implications, posing other possible remedies.
Keywords: Gonzales v. Castle Rock; protective orders after Castle Rock; Nearing v. Weaver, 670 P.2d 137 (Or. 1983); Campbell v. Campbell, 682 A.2d 272 (N.J. Super. 1996); Ford v. Town of Grafton, 693 N.E.2d 1047 (Mass. App. Ct. 1998); Mastroianni v. County of

Affiliations: 1: ACLU Women's Rights Project; 2: ACLU Women's Rights Project.