Complete Issue
Author: Joan Zorza, Esq..
Source: Volume 11, Number 02, December/January 2006 , pp.17-32(16)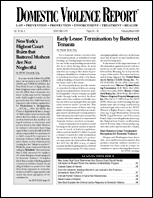 < previous article |return to table of contents
Abstract:
This is the complete issue, Volume 11 Number 2. It includes the full text of the articles listed above, with hyperlinks from table of contents entries to articles and linked article continuations, to facilitate reading.
Keywords: Lesbian, Gay, Bisexual and Transgender Domestic Violence: 2003 Supplement; hip-hop as expression of sexuality; FOURTH CIRCUIT: Employee Abducted by Boyfriend From Workplace May Proceed With Intentional Infliction of Emotional Distress Claim Against E

Affiliations: 1: Editor, Domestic Violence Report.