New Jersey High Court Finds Expert Testimony on Battered Woman Syndrome Admissible in Defense of Woman Who Committed Sexual Assault Under Duress
Author: Staff Editors.
Source: Volume 11, Number 02, December/January 2006 , pp.27-28(2)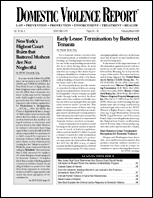 < previous article |next article > |return to table of contents
Abstract:
This column discusses the background and findings of State v. B.H., 870 A.2d 273 (N.J. 2005).
Keywords: the term "battered woman syndrome" is confusing and reinforces incorrect stereotypes about victims of domestic violence

Affiliations: .