Responding to Domestic Violence
Author: Joan Zorza, Esq..
Source: Volume 11, Number 02, December/January 2006 , pp.19-20(2)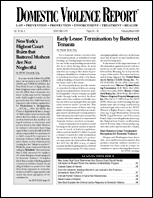 < previous article |next article > |return to table of contents
Abstract:
Ten years ago two physicians, Patricia R. Salber and Ellen Taliaferro, wrote a book for doctors on domestic violence that was then state of the art. Just how much has changed is clear from their completely revised update of the book, "The Physician's Guide to Intimate Partner Violence and Abuse: A Reference for All Health Care Professionals: How to Ask the Right Questions and Recognize Abuse . . . Another Way to Save a Life". This article reports on that book and the changes it represents, and deals also with the California Task Force's follow-up report "General Keeping the Promise: Protecting Victims of Domestic Violence and Batterer Accountability".
Keywords: scathing indictment of CJS; California Criminal Justice System

Affiliations: 1: Editor, Domestic Violence Report.