Domestic Violence of Gay and Bisexual Black Men Most Likely Underreported
Author: Ajua McNeil.; Juley Fulcher.
Source: Volume 11, Number 02, December/January 2006 , pp.17-19(3)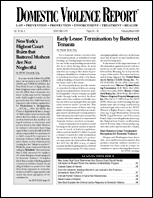 < previous article |next article > |return to table of contents
Abstract:
According to Amnesty International, domestic violence (DV) occurs in 25-33% of same-sex relationships–resulting in the battering per year of 50,000 to 100,000 lesbians and 500,000 gay men. This statistic is most likely underestimated given the fact that many abusive relationships in the lesbian/ gay/ bisexual/transgender (LGBT) com - munity go unreported for a plethora of reasons: the target of the abuse may buy into the myth that men can defend themselves against other men and women are not violent towards each other; or s/he may believe that the police will not take the complaint seriously; or the victim may live in a state where the law is not written from a gender neutral perspective and only protects heterosexual victims of abuse.
Keywords: Lesbian, Gay, Bisexual and Transgender Domestic Violence: 2003 Supplement; hip-hop as expression of sexuality

Affiliations: 1: Break the Cycle; 2: Break the Cycle.