Findings of Child Neglect in New York Due to Domestic Violence After Nicholson v. Scoppetta
Author: Anne L. Perry, Esq. .
Source: Volume 11, Number 02, December/January 2006 , pp.17-19(3)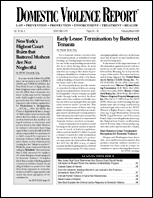 next article > |return to table of contents
Abstract:
Following the landmark class action decision in Nicholson v. Scoppetta, 820 N.E.2d 840, 787 N.Y.S.2d 196 (2004), New York courts have revisited a number of child neglect adjudications based on domestic violence in the presence of the children. The Nicholson decision held that a domestic violence victim may not be charged with child neglect solely on the grounds that the child has been exposed to the violence against the mother.
Keywords: In re Richard T; In re Karissa NN; In re Taisha R; In re Ravern H; In re Daniel HH; D.R. v. Dep't of Children and Family Services

Affiliations: 1: Associate Editor of DVR.