Complete Issue
Author: Joan Zorza, Esq..
Source: Volume 11, Number 03, February/March 2006 , pp.33-48(16)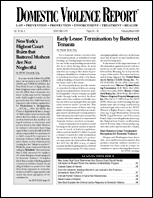 < previous article |return to table of contents
Abstract:
This is the complete issue, Volume 11 Number 3. It includes the full text of all the articles listed above, several of which are inter-related, with hyperlinks from table of contents entries to articles and linked article continuations, to facilitate reading.
Keywords: Casey Gwinn, "Dreaming Big: Creating Family Justice Centers Across America,"; Women Gain No Tactical Advantage From Abuse Allegations; Evidentiary Rules and Practices Provide Hurdles for Abused Women; Mediation Places Women at Greater Danger; Lar

Affiliations: 1: Editor, Domestic Violence Report.