Complete Issue DVR1104
Author: Joan Zorza, Esq..
Source: Volume 11, Number 04, April/May 2007 , pp.49-64(16)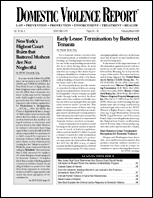 < previous article |return to table of contents
Abstract:
This is the complete issue, Volume 11 Number 4. It includes the full text of all the articles listed above, with hyperlinks from table of contents entries to articles and linked article continuations, to facilitate reading.
Keywords: VAWA 2005 Extends Immigration Relief to a Larger Group of Family Violence Victims; Haitian Refugee Immigration Fairness Act; HRIFA; "Law Is the Answer? Do We Know That for Sure?: Questioning the Efficacy of Legal Interventions for Battered Women"

Affiliations: 1: Editor, Domestic Violence Report.