Recent Criminal Cases
Author: Anne L. Perry, Esq. .
Source: Volume 11, Number 05, June/July 2006 , pp.68-70(3)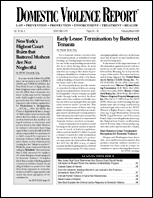 < previous article |next article > |return to table of contents
Abstract:
This column summarizes and discusses recent cases of interest to readers of DVR, including, Bradshaw v. Richey, 126 S.Ct. 602; U.S. v. Brandenburg, 157 Fed. Appx. 875; Newman v. State, 863 A.2d 321 (Md. Ct. App. 2004); People v. Lewis, 807 N.Y.S.2d 1 (N.Y. Ct. App. 2005); People v. Lewis; People v. Douglas; State v. John, 881 A.2d 920 (R.I. 2005).
Keywords: Doctrine of Transferred Intent Applied Where Defendant Killed Child in Arson Attack on Ex-Girlfriend; History of Domestic Violence Supports Sentence Requiring Notification of Social Contact and Prohibiting Cohabitation With Any Female; MARYLAND: High

Affiliations: 1: Associate Editor of DVR.