Complete Issue
Author: Joan Zorza, Esq..
Source: Volume 11, Number 06, August/September 2006 , pp.81-96(16)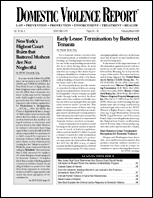 < previous article |return to table of contents
Abstract:
This is the complete issue, Volume 11 Number 6. It includes the full text of all the articles listed above, with hyperlinks from table of contents entries to articles and linked article continuations, to facilitate reading.
Keywords: forfeiture doctrine; implications of Davis case; Legal Resource Center on Violence Against Women; Pearson v. Caudle; MASSACHUSETTS: Extension of Domestic Abuse Prevention Order Proper Upon Former Husband's Release From Prison; OHIO: Protection Orde

Affiliations: 1: Editor, Domestic Violence Report.