Intensive Supervision of Domestic Violence Defendants Helps Deter Reoffending While on Bail
Author: Staff Editors.
Source: Volume 11, Number 06, August/September 2006 , pp.88-89(2)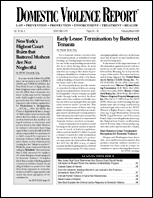 < previous article |next article > |return to table of contents
Abstract:
"The Effect of Intensive Bail Supervision on Repeat Domestic Violence Offenders,", by James Lasley, explores the role of bailbond agents in reducing recidivism by providing intensive supervision of domestic violence offenders released pretrial. The results show that bailbond agents can effectively deter domestic violence incidents during the pretrial phase by closely monitoring men who have been released on bail.
Keywords: Intensive Bail Supervision Produces a Specific Deterrent Effect

Affiliations: .