Findings From Some New Child-Custody Literature
Author: Staff Editors.
Source: Volume 11, Number 06, August/September 2006 , pp.87-89(3)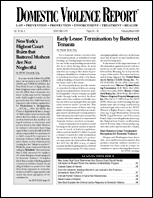 < previous article |next article > |return to table of contents
Abstract:
This article is in two sections. The first section examines two recent articles criticizing evaluators and guardians ad litem, the first calling for their elimination, and the second noting the serious limitations of custody evaluators. The second section examines the research from Western Australia on fathers who killed their children and then themselves.
Keywords: Use of Custody Evaluators and GALs Questioned; "Court-Appointed Parenting Evaluators and Guardians Ad Litem: Practical Realities and An Argument for Abolition," by Margaret K. Dore; "On the Limitations of Child-Custody Evaluations," by Ian Da

Affiliations: .