Custody and Divorce in Domestic Violence Cases
Author: Staff Editors.
Source: Volume 11, Number 06, August/September 2006 , pp.86-87(2)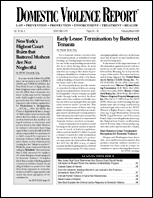 < previous article |next article > |return to table of contents
Abstract:
This column summarizes and discusses recent cases involving custody determinations in cases of domestic violence, including: Lamb v. Lamb, __ So.2d __, 2006 WL 146103 (Ala. Ct. App. 2006) and Mitchell v. Lane, 2006 WL 133421 (Iowa Ct. App. 2006).
Keywords: ALABAMA: Custody of Child and Marital Home Awarded to Husband Despite Wife's Allegations of Domestic Violence; IOWA: Mother Who Fled With Child After Assault by Father Denied Custody for Concealing Her Whereabouts

Affiliations: .