Civil Order of Protection Cases
Author: Anne L. Perry, Esq..
Source: Volume 11, Number 06, August/September 2006 , pp.85-86(2)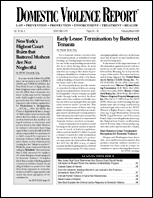 < previous article |next article > |return to table of contents
Abstract:
This article summarizes and discusses recent court cases involving civil orders of protection: Vittone v. Clairmont, 834 N.E.2d 258 (Mass. Ct. App. 2005) and Carpeno v. Carpeno, 2005 WL 3610425 (Ohio Ct. App. 2005).
Keywords: MASSACHUSETTS: Extension of Domestic Abuse Prevention Order Proper Upon Former Husband's Release From Prison; OHIO: Protection Order Was Properly Issued for All Children in Household Based on Testimony by One Child That Father Sexually Abused Her

Affiliations: 1: Associate Editor of DVR.