Tips for Representing Battered Mothers in Relocation Cases
Author: Joan Zorza, Esq..
Source: Volume 11, Number 06, August/September 2006 , pp.83-84(2)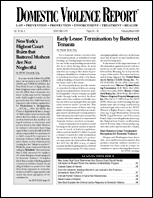 < previous article |next article > |return to table of contents
Abstract:
Every state has its own custody laws, court rules and case law, and knowing these laws and practices is critical to handling any custody case. These laws and cases may contain the criteria for how courts are supposed to handle relocation cases, or the state may have separate laws dealing with when a parent may remove a child from the state. Whether you are a lawyer representing a client who wishes to relocate or are representing yourself, you should know what these laws and cases say, and try to fit your situation into the most favorable criteria. This column provides su8ggestions for handling such cases.
Keywords: Legal Resource Center on Violence Against Women; Pearson v. Caudle

Affiliations: 1: Editor, Domestic Violence Report.