Four Stalking Resources
Author: Joan Zorza, Esq..
Source: Volume 12, Number 01, October/November 2006 , pp.8-10(3)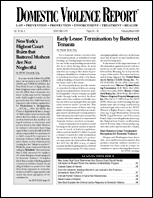 < previous article |next article > |return to table of contents
Abstract:
This article summarizes, reviews, and discusses four publications: "Stalking the Stalker: Fighting Back With High-tech Gadgets and Low-tech Know-how", by Diane Glass, 85 pages, 2006; "Stop the Stalker: A Guide for Targets", by Betsy Ramsey, 62 pages, 2000; " Stalking: A Handbook for Victims", Emily Spence-Diehl, 72 pages, 1999;p and "How to Stop a Stalker", Detective Mike Proctor, 292 pages, 2003.
Keywords: sexual assault and stalking; how to obtain the books

Affiliations: 1: Editor, Domestic Violence Report.