More on the Dixon Case: United States Supreme Court Upholds Domestic Violence Victim's Convictions, Where Court Had Instructed Jury That Defendants Have Burden of Proving Duress
Author: Staff Editors.
Source: Volume 12, Number 01, October/November 2006 , pp.7-7(1)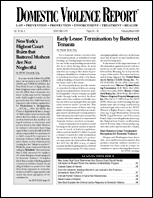 < previous article |next article > |return to table of contents
Abstract:
The United States Supreme Court ruled 7-2 that petitioner Keshia Dixon's due process rights were not violated when the trial court's jury instructions placed the burden on Dixon to establish the defense of duress by a preponderance of the evidence. Dixon v. U.S., 126 S.Ct. 2437 (2006). There is no federal statute defining the elements of the defense of duress, and disagreement among the Federal Courts of Appeals on the burden of proof issue caused the Supreme Court to grant certiorari. This article discusses the background and details of the case.
Keywords: brief for petitioner

Affiliations: .