Ohio Supreme Court to Resolve Whether State's Same-Sex Marriage Ban Renders the Criminal Domestic Violence Statute Unconstitutional as to Unmarried Partners
Author: Anne L. Perry, Esq. .
Source: Volume 12, Number 01, October/November 2006 , pp.1-3(3)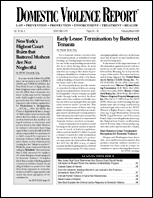 < previous article |next article > |return to table of contents
Abstract:
In an interesting case of unintended consequences, a number of trial courts and two appellate courts in Ohio have determined that the voter approved Defense of Marriage Amendment, defining marriage as between "one man and one woman," also invalidates the State's domestic violence provision protecting "a person living as a spouse" from abuse. However, the majority of appellate courts to consider the issue have concluded that the domestic violence statute is neither incompatible with, nor unconstitutional, in light of the Defense of Marriage Amendment. Based upon this conflict, the Supreme Court of Ohio has allowed appeal to resolve the certified question of whether the domestic violence statute is unconstitutional as applied to unmarried, heterosexual cohabitants who have not parented any children together.
Keywords: Defense of Marriage Amendment; State v. Rexroad; State v. Carswell; State v. Burke; State v. Rodgers; State v. Rodriguez; Ward; McKinley

Affiliations: 1: Associate Editor of DVR.