Complete Issue
Author: Joan Zorza, Esq..
Source: Volume 12, Number 02, December/January 2007 , pp.17-32(16)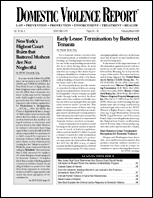 < previous article |return to table of contents
Abstract:
This is the complete issue, Volume 12 Number 2. It includes the full text of the articles listed above, with hyperlinks from table of contents entries to articles and linked article continuations, to facilitate reading.
Keywords: devoted to cases in which there is no evidence of IPV; Breaking the Silence: Children's Stories; Joan Kelly; Marjorie Slabach; Isolina Ricci; Andrew Shephard; Marsha Pruett; Peter Jaffe; Richard Warshak; Nadine Blaschak-Brown; glorification of supe

Affiliations: 1: Editor, Domestic Violence Report.