New Video: "Debating Richard Gardner"
Author: Staff Editors.
Source: Volume 12, Number 02, December/January 2007 , pp.27-28(2)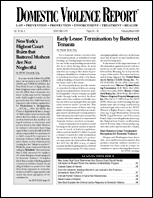 < previous article |next article > |return to table of contents
Abstract:
Fathers' Rights activists have been getting a lot of media attention promoting the theory of Parental Alienation Syndrome [PAS]. At the same time, the media has given little attention to the far greater evidence showing that PAS has no valid basis. For this reason it is particularly timely that award winning filmmaker and Boston University Professor Garland Waller has just produced an excellent 30 minute documentary, "Debating Richard Gardner", that should be widely shown to debunk PAS.
Keywords: bogus theory that Gardner created

Affiliations: .