Cases Involving Police's Failure to Protect After Castle Rock v. Gonzales
Author: Anne L. Perry, Esq..
Source: Volume 12, Number 02, December/January 2007 , pp.25-27(3)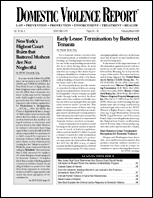 < previous article |next article > |return to table of contents
Abstract:
This column summarizes and discusses recent court cases on the title subject, including Howard v. Bayes, 457 F.3d 568 (6th Cir. 2006); and Lee v. City of Oakland, 2006 WL 2046011 (Cal. Ct. App. 2006)
Keywords: Sixth Circuit: Following Castle Rock v. Gonzales, No Relief in Failure to Protect Action; Liability Verdict Against City Upheld in Failure to Protect Suit Based on State Tort Law

Affiliations: 1: Associate Editor of DVR.